FURminator Shed-Less Treatment
Home | About Us | Our Services | FAQs | Links & Resources | Contact us | Photo Gallery
- - - - - - - - - - - - - - - - - - - - - - - - - - - - - - - - - - - - - - - - - - - - - - - - - - - - - - - - - - - - - - - - - -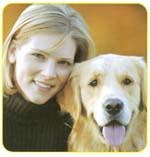 Love your pet....Hate the shedding?
New potential for an ancient relationship
The world of pet lovers - and that's pretty much the entire world - has been waiting for a truly effective, inexpensive, easy-to-use solution to the pet-hair-and-dander problem. Now it's here. It's an ingeniously simple grooming treatment called the FURminator™ shed-less Treatment, centered around a patented new deShedding Tool, and it just might change the world - one pet at a time - so pet-lovers everywhere can enjoy their pets to the fullest.
Remove hair from your pet, not your couch
The thinking behind the FURminator shed-less Treatment is simple logic - the more hair you remove from your pet, the less hair you need to remove from your couch, your clothes, your floors, your carpet, your car and your home. but typical pet-grooming systems merely wash and comb your pet's hair without addressing the underlying problem, which literally, is the underlying problem - your pet's undercoat.
It's not the hair you see...It's the hair you don't see
Your pet's undercoat can become a dense mess of loose, dead hair - and the major source of shedding. The FURminator Treatment was developed to grab and remove - not cut, but remove - undercoat hair quickly and easily. Neither the specialized tool nor the process hurts your pet, and all-natural deShedding Shampoo and deShedding Solution are great for promoting a healthy coat and healthy skin on your pet.
What is the FURminator shed-less Treatment?

1. It starts with the FURminator deShedding Shampoo and a massaging bath that separates your pet's coat, stimulates your pet's hair follicles and invigorates circulation.
2. The FURminator deShedding Solution is applied. This specially formulated all-natural solution helps to loosen the undercoat and loose hair.
3. A high velocity dryer separates and eliminates the excess coat and loose hair on the pet. The targeted blow drying process is followed by thorough brushing and combing.
4. This revolutionary FURminator deShedding Tool is then used to extract loose hair and undercoat from your pet...leaving a shiny and healthy top coat.
About the treatment
Designed for both long and short-haired pets
The FURminator Treatment will make both long and short-haired pets look and feel better. Within one to two treatments, the FURminator has been proven to reduce shedding up to 80%.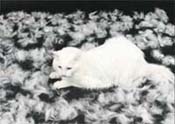 Designed for cats as well as dogs
The FURminator Treatment makes particular sense for use with cats because it removes your cat's loose hair before your cat can ingest it and vomit it back up as a hairball in a typically inconvenient place in your home. Less loose hair means fewer hairballs.
Recommended by Doctors for people with allergies
Allergy sufferers may breathe easier after your pet has had the FURminator shed-less Treatment. Reducing the amount of pet hair in your environment also reduces the amount of dander and airborne elements that cause allergic reactions in many people.
Recommended by Veterinarians
The FURminator Treatment has been endorsed by Veterinarians who understand the importance of maintaining a happy and healthy pet. According to Veterinarians, the overall health of your pet is based, in part, on keeping your pet both clean and comfortable.
A few things to Remember
Excitement and stress can trigger hormones that can cause your pet to shed, and you may experience some of this in the first 12 to 24 hours after you take them home.
The FURminator shed-less Treatment is even more effective with regular treatments performed every 4-6 weeks.